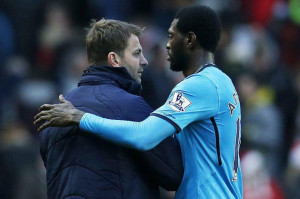 Tottenham announced Tuesday the dismissal of manager Tim Sherwood. The English club released having terminated the contract of the technician only six months after his arrival at at the helm of the team following the departure of Portuguese Villas- Boas. So to bottoming, Sherwood took up the club by hoisting it to Europa league particularly ahead of Manchester United.
One of his greatest achievements was to revive the Togolese Emmanuel Adebayor shelved by his predecessor. With the success we know. Adebayor ends over a half of the season top scorer of the club with 14 goals. Hence a certain complicity between the two men.
Adebayor has not hesitated to post a few days ago his position about maintaining Sherwood as manager of the club: "He treats all players equally. This is a great man. He is a friend and as a former football player, he knows exactly what is involved in this business," said the Togo international.
The Club can announce that Tim Sherwood has left his coaching position at the Club.

— Tottenham Hotspur (@SpursOfficial) May 13, 2014