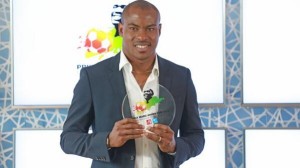 Winner of the Marc- Vivien Foe Award Monday, rewarding the best African player in Ligue 1, Vincent Enyeama does not consider himself as the best African goalkeeper of the moment. Despite a great season with Lille, the former Enyimba player believes there are other goalies in Africa that do good jobs and who deserve greater rewards.
"There are so many good African goalies… But they do not all have the chance to be on the front of the stage. There is also the Togolese goalkeeper of Reims [ Kossi Agassa ] , who did an amazing job there. There is also my replacement [Team Nigeria ], who plays in Israel. Austin Ejide is really a superstar there. He just has not had the chance to be on the front of the stage, as I had. There is also Carlos Kameni, the Cameroon goalkeeper, and also Charles Itandje, another Cameroonian. They are all top class guardians. I have great respect for them", he has told France 24.
Enyeama was the first goalkeeper to win the Marc- Vivien Foe Award, succeeding Gabon's Pierre- Emerick Aubameyang. He beat this year Ivorian Serge Aurier and Cameroonian Henri Bedimo.