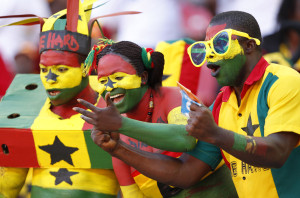 FIFA (International Federation of Association Football) unveiled the slogans of the competing teams for the next World Cup. Slogans that appear on buses of different sides to be in Brazil next summer. It is known in particular that France will scribble "Impossible is not French" on their vehicle.
These slogans were chosen by fans around the world through a competition organized by FIFA.
Here are the slogans of the 5 African teams qualified!
Algeria: The desert warriors in Brazil.
Cameroon: A lion remains a lion.
Côte d' Ivoire: The Elephants in the conquest of Brazil.
Ghana: Black Stars: Around to illuminate Brazil.
Nigeria: We can win together.
And here all other slogans!
France: Impossible is not French
Germany: One nation, one team, one dream
England: The dream of a team, beating heart for millions of fans
Argentina: We are not a team but a country
Australia: Socceroos, hoping to make history
Belgium: Expect the impossible
Bosnia and Herzegovina: Dragons in the hearts, dragons on the ground
Brazil: Prepare yourself, the 6th is coming!
Chile: Chi, Chi, Chi, Le, Le, Le, go Chile
Colombia: This is not a team travelling but rather a whole country
Costa Rica: My passion is football, my strength fans, my pride Costa Rica
Croatia: With fire in our hearts, Croatia is united
Ecuador: A commitment, passion, one heart, we are with you Ecuador
Spain: In our heart, the passion of a champion
Greece: Heroes play as the Greeks
Honduras: We are one people, one nation, with five stars on the heart
Iran: The honor of Persia
Italy: Let's Paint with the Blue the World dream
Japan: Samurai, the time has come to fight
Mexico: Forever united, forever Aztecs
Netherlands: Real men wear orange
Portugal: The past is history, the future victory
Republic of Korea: Enjoy, it is the Reds!
Russia: No one can catch us
Switzerland: Final destination: 13.07.2014 Maracana
Uruguay: 3 million dreams, go Uruguay!
USA: United by a team guided by a passion!
What is the most original slogan in your viewpoint? Drop your comment bellow!