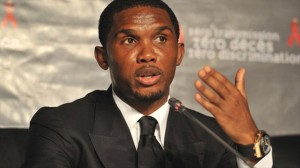 Samuel Eto'o was the big attraction Tuesday in Ouagadougou. The Cameroon striker arrived on the eve to sponsor the final of the "Copa Coca Cola" tourney in the name of the greatest brand of soft drink.
"The dream is the beginning of all success. We need young Africans to dream. Our parents are the past and present and we are the present and the future. I am African before being Cameroonian and I love all these young Africans who want to bring something to Africa," said Eto'o Fils.
Regarding the tournament, the team of Bobo-Dioulasso won by 4 goals to 0 Ouahigouya.
Next step, Bouaké where the Chelsea striker will attend the final of "Copa Coca Cola" Côte d'Ivoire.
The journey of Samuel Eto'o in Ouagadougou continued Wednesday with an audience with Blaise Compaoré, the Head of State of Burkina Faso.
Blaise Compaoré échange avec Samuel Eto'o http://t.co/HXhPhoQMn2 pic.twitter.com/K6ZnD1SAs0

— Présidence du Faso (@presidence_faso) May 14, 2014