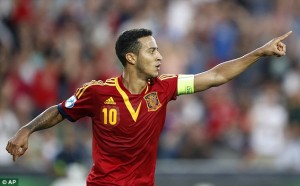 While he has been selected by Vicente Del Bosque in an enlarged 30-player list for the 2014 World Cup, Thiago Alcantara must eventually give up the competition.
The former Barca player suffers a partial rupture of the ligaments in his right knee since the match against Hoffenheim (28th day Bundesliga) and relapsed earlier this week when he made his return to training after six weeks of downtime.
Via a statement, Bayern Munich confirmed the withdrawal of the Spanish midfielder.
"It is cruel for Thiago, we are really sorry for him. He worked hard to make a comeback and play the World Cup for his native country and suddenly, the two dreams fly," said Karl Heinz Rummenigge, the boss of the Bavarian club.