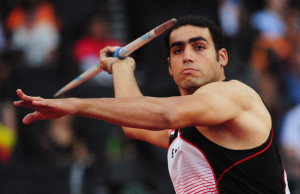 The second stage of the Diamond League took place on Sunday in Shanghai. Three athletes took the opportunity to pop off the screen.
Ihab El Sayed Abdelrahman marked the spirits in the javelin at this meeting in Shanghai. The Egyptian has established the world's best performance of the season in his discipline with a throw of 89.21 m, far ahead of the Swedish Amb Kim (84.14 m). Kenyan Julius ego fails 80 centimeters off the podium (83.00 m).
Justin Gatlin has achieved the best time of the year on the main distance. The American won in 9' 92 " (no wind ) the 100m. The duel with Nesta Carter just did not happen. The Jamaican finished 20 hundredths of Gatlin 10 " 12. Mike Rodgers climbs on the third place (10" 18). Note the 6th place of the Ivorian Hua Wilfried Koffi (10" 27) in that final.
Another great man of this appointment, Lavillenie. The French, record holder in the pole vault also achieved the world's best performance with 5.92 m.