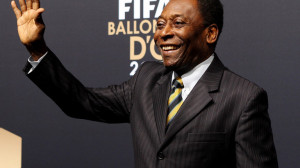 At 70 years old, the Brazilian football legend, Pelé is not afraid of challenges.
He composed a song he intends to sing during the World Cup!
"You have given me so much joy and cry with emotion, football is in the veins of our nation," are the first words of the song unveiled by the website of the daily Folha de Sao Paulo.
It is said that the song of Pele should even be added to the official song of the World Cup selected by the International Football Federation (FIFA), "We are one" performed by Jennifer Lopez and Pitbull.