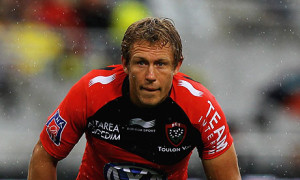 Jonny Wilkinson will not be on the rugby lawn next season. The Rugby Club Toulon flyhalf announced Monday that he was ending his career.
"I want to officially announce my retirement as a rugby player today ," said the 35 years  Englishman in a statement posted on the website of the RCT. "I sincerely want to thank you all for everything you have given me and for making the past seventeen years something I will never forget."
2003 world champion with England, Jonny Wilkinson second – leading scorer in the history of rugby with 1246 points behind Daniel Carter– had drawn a line on his international career after the 2011 World Cup. At Toulon since 2009, Jonathan Peter Wilkinson his full name, won the European Cup (Heineken Cup) in 2013 and lost two finals of the Top 14 (2012 and 2013).
But at the time he announces his retirement, Wilko still has two major challenges before turning the 17-year page marked by the championship of England with Newcastle Falcons (1997-1998) among others. As he says in the statement: "This is not the time to focus on my retirement because I want to focus all my attention and energy on the team and the last two games of the season".
And these two games are nothing more than the final of the Heineken Cup to oppose the RCT to the English of Saracens on May 24 at the Cardiff Milenuim Stadium, then the Top 14 final against Castres Olympique (May 31).