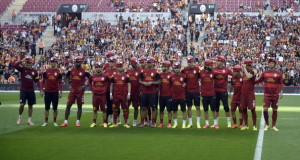 The information has not certainly escaped you. The collapse of a mine at Soma in Turkey made 300 victims last week. The whole country is in shock.
And here is information that should give a hint of smile. Didier Drogba, player of the Turkish club Galatasaray has donated a million to the families of victims. An operation that the Ivorian performs through his Foundation. Moreover, he would not make a fuss.
"I am an ambassador of good will of the UN. And I will do whatever is in my power to help the people of Soma ", he said.
"But I do not want anyone to use my name. I do not want a promotion of me," he added.
For the last game of the season, Galatasaray paid tribute to victims of Soma. The team appeared on the lawn with helmets of minors.