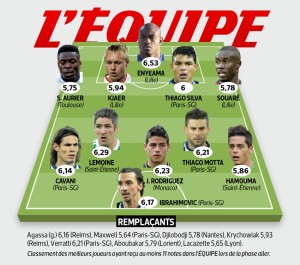 We announced this morning the worst team in Ligue 1 this season. Here's the best, with two Africans. Serge Aurier and Vincent Enyeama are included in the top eleven stars of the season in Ligue 1 unveiled by the French newspaper L'Equipe.
The Ivory Coast and Nigerian internationals have achieved a remarkable year with varying success. If Lille clinches a preliminary place in Champions League, Toulouse finished 9th.
However Aurier and Enyeama made headlines all weekends. The first for his many stops, which earned him the title of Marc-Vivien Foe for the best African player in Ligue 1. He is also one of the architects of the 3rd place of Mastiffs.
Serge Aurier also was entitled to all the honors this season. Scorer, passer, the former Lens has panicked statistics for a defender. Arsenal and all of Europe are at his heels.