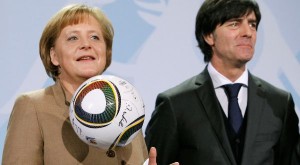 German Chancellor Angela Merkel rarely misses occasions of the National Mannschaft. She will once again be behind the selection of his country at the 2014 World Cup to fully support them.
To this end, she will attend the first match of the men of Joachim Löw on June 16 against Portugal in Salvador.
"I'm going to watch the first match of the German team in the group stage and I hope (the coach) Joachim Löw and his team to continue successfully with six other meetings," Merkel told a regional daily Leipziger Volkszeitung Tuesday.