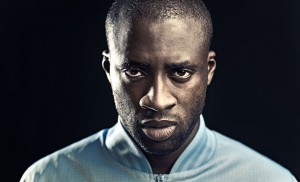 Would Yaya Touré be undesirable in Spain? In any case if we believe the Daily Star, FC Barcelona and Real Madrid are not interested in the arrival of the powerful midfielder of Manchester City this summer.
"Yes, I said that I would like to finish my career at Barcelona. We never know because football goes fast, we never know … ". Clearly open to a return to Barcelona since the media release of his agent on Tuesday, the Ivorian midfielder of Manchester City has caused confusion about his future and may shake the summer transfer during the World Cup.
According to reports in the Daily Star, if Yaya Toure would like to return to Barcelona, the interest is not mutual; especially on the side of Luis Enrique who thinks rather of strengthening his attack. Information to be taken lightly as the Ivorian has left a good impression in Catalonia.
In the past, Yaya Toure also revealed that he could join Real Madrid but he decided to go elsewhere in order not to betray his loyalty to FC Barcelona.
According to the Daily Star, Real Madrid should not interfere in this issue this summer as they also have other priorities in the transfer market.