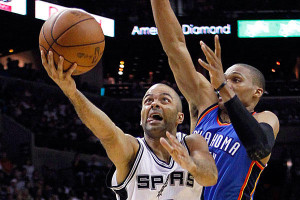 Dirty night for the Thunder last night at the AT & T Center. Oklahoma City has taken a beating from the collective game of San Antonio. Spurs have imposed themselves with 35 points! And lead the series of semi-finals of the Western Conference with 2-0. With Russell their duo Westbrook – Kevin Durant with 13/40 to shooting, OKC did not exist facing the men of Gregg Popovich and bowed 112-77, the worst defeat in their history.
In fact the crew of Scotts Brook tried to make the thunder clap in the first quarter. They started the game with a 0-5 and were ahead after 12 minutes of the first act, 24-26. Even if the address is not at the rendezvous, and the Spurs are still enjoying the absence of Serge Ibaka in the racket, Kevin Durant (15 pts, 6/ 16) and Russell Westbrook (15 pts, 7 / 24) did believe in the equalization when the score was 33-36 at 7 minutes of the break.
But then, in the wake of Tony Parker (22 points, 5 assists in 28 minutes), Texans climbed to top speed. Danny Green untenable from long distance (21 points on 7/10 3-pointers ) and Manu Ginobili (11 points off the bench) initiate a 10-0 to close the quarter time by a 23-8 and allow their franchise to return to the locker room with a 14 points advantage, 58-44.
The rout is accentuated in the third act one way. San Antonio led by 29 units at the start of the last twelve minutes (91-62). Coach Pop then let his benchers finish the job (112-77). Boris Diaw blackens his copy of 11 points, 3 rebounds. Note the double- double of the third member of the Big Three in Texas, Tim Duncan (14 points, 12 rebounds).
Despite this demonstration, we should not quickly bury the Thunder who had been led 2-0 at the same stage of the competition in 2012 by the same Spurs before turning the tide during the next four games. Is history going to be repeated? Earliest response in Game 3 in Oklahoma.