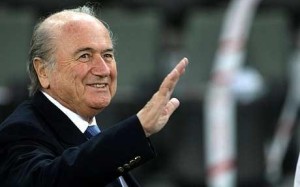 Sunday, May 25, 2014, the President of FIFA will begin an Asian tour that will see him successively in Jordan, Palestine and Israel.
In Jordan, the first stage of his journey, Joseph Blatter will meet Vice -President of FIFA Sar Prince Ali Bin Al-Hussein and the direction of the Jordanian Football Federation. He will then travel to Ramallah, Palestine. There, after a lunch with the President of Palestine, SE Mahmoud Abbas before attending a press conference with his host, HRH Prince Ali and General Jibril Rajoub.
During his visit, the FIFA President will attend the ceremony of International Award for Excellence and Creativity. He will then attend the coronation ceremony of the Champion of the Jawwal Premier League, with Father Ibrahim Faltas from the John Paul II Foundation.
The next day, Joseph S. Blatter will head to Israel to attend a meeting of the Israel Football Association (IFA), followed by an official lunch. The FIFA President will then meet with Israeli Prime Minister SE Benjamin Netanyahu before attending a press conference.
This trip of the boss of world soccer's governing body will occur within one year of election to the presidency of the institution he has led since 1998 and that he intends lead longer.