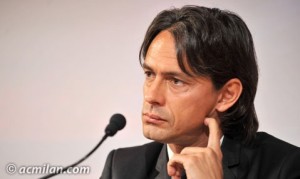 We already know the name of the future successor of Clarence Seedorf. He is a former player of AC Milan.
Clarence Seedorf is in the verge quitting Milan. Indeed, if one believes the Italian newspaper Gazzetta dello Sport, Filippo Inzaghi is poised to take over the service of the current coach of AC Milan. This choice would be the will of Silvio Berlusconi.
The former Italian international, Inzaghi has evolved over nearly 11 seasons (2001-2012) in the AC Milan club where he finished his career. He then trained at the end of his football career, the U-18 team of AC Milan from 2012 to 2103 and then the U-21 of the same club. So he knows very well AC Milan and has experience as a coach.
Monday afternoon, Inzaghi was present at the meeting with the leaders of the club. The choice would be done at this time and the future coach should be assisted by Mauro Tassotti and Filippo Galli. In the coming hours, the departure of Clarence Seedorf and the coming of Filippo Inzaghi on the bench should be formalized by the Italian club.