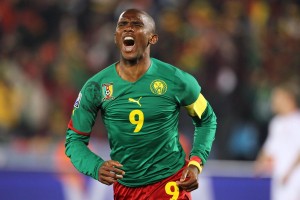 Serenity does not  really reign in the den of the Indomitable Lions currently at training camp in Austria. While Jean Armel Kana – Biyik and Auréline Chedjou have still not trained due to injuries they picked from their clubs, big concern around the star of the team.
Samuel Eto'o drags with a knee pain that prevents him from training properly. Absent from the first warm-up match of Cameroon on Monday against Macedonia, the Chelsea striker is announced in Barcelona on Tuesday for treatment. "Samuel Eto'o Fils, captain of the Indomitable Lions, will tomorrow (Tuesday, May 27, 2014, ed) make a return trip to Barcelona, in consultation with his doctor," told Raphael Nkoa, Associated Press of the selection in statements relayed by Cameroon- info.
At the same time, Achille Webo had to give up his place in the game yesterday due to a shoulder injury after opening the scoring.