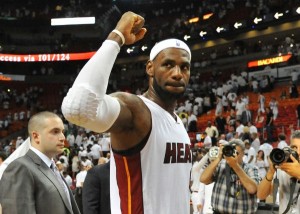 Miami rushes to its fourth consecutive coronation as champion of the East before perhaps a new NBA trophy. Heat, driven by LeBron James and Chris Bosh, beat Indiana last night, 102-90, and leads the series of the conference finals by winning 3 to 1.
Within the beginning of the series, Bosh (25 points, 6 rebounds) took things in hand and registered the first eight points of his team. Rashard Lewis in the five major, instead of Chris Andersen left standing, makes the job in the defense. Miami is already in the game, 27-19 at the end of the first quarter time. In the second act, Lance Stephenson (9 pts, 5 rebounds, 4 assists) takes his third foul and rejoined the bench. Erik Spoelstra's men are away with 17 units. But Paul George (23 pts, 7 rebounds, 3 wt) and David West (20 pts, 12 rebounds) allow Pacers to stay alive at the break, 49-44.
After the break, Indiana, shambles its basketball and undergoes the law imposed by LeBron James. Heat winger scored 14 of his 32 points (plus 10 rebounds and 5 assists) in the third quarter, well attended by Dwyane Wade (15 points). Despite the address behind the arc of George Hill (15 points 4/7 3-pointers), the break is done before the last twelve minutes: 80-64. The gab even increased up to 23 points in the fourth quarter time. The team of Larry Bird does not give up and makes a 15-3 to close the gap. At 1 min 31 sec the score is 99-90 . King James closed the evening with a 2 +1 which ends the game 102-90.
Pacers will have to win the next three games, which already begin with Game 5 at Indianapolis, to hope NBA Finals berth. An almost impossible task for during the past 4 years , Miami had 8 wins and 0 losses after leading 3-1 in a playoff series.