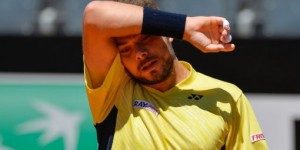 Stanislas Wawrinka takes the exit door at Roland Garros. The World No. 3 was eliminated in the first round of Roland Garros (France) by Spaniard Guillermo Garcia- Lopez 6-4 , 5-7, 6-2, 6-0.
"I cannot explain why I played badly. I felt good, motivated, ready to start this tournament," said the recent winner of the Swiss Masters 1000 in Monaco. "On the ground, I have simply failed to do what I had to do. It was a tough match. It is a defeat that really hurts me because I thought I had everything needed to make a good Roland Garros. I feel I have played flat. I poorly negotiated exchanges. Everything was terrible. I have to admit it so," he said disappointedly.
We must also say that the Swiss had underperformed in Madrid (elimination in the first round ) and Rome (elimination in the second round ) "this will do me good to put the ideas clear. The start of the season is still just amazing."
He will have to regain his form during the season on grass courts.