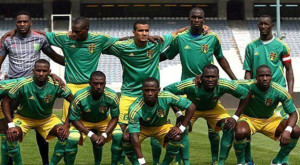 The meeting between Equatorial Guinea and Mauritania part of the first round of qualifiers for the 2015 Afcon will be played until next weekend. But the game has already started off the field.
Landed some time ago in the Equatorial Guinean capital to prepare for this meeting, Mauritanians, 1-0 winners at home in the first leg, say they were unwelcomed and complain having faced enormous problems.
"After the hassles at the airport, the Mauritanian delegation arrived in Malabo in a noxious and cold atmosphere," suggested journalists from Mauritaniefootball site, who were also part of the delegation.
In addition, our colleagues deplore the bad hosting conditions of Patrice Neveu and his foals.
"The Mourabitounes are welcomed as prisoners of war in a barrack, an unworthy sports complex part of the hotel and hotel services," growls Mauritaniefootball adding that the terms of reference of the CAF is not at all respected by the federation of Equatorial Guinea.
This promises a meeting full of tension next weekend.