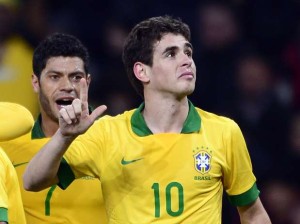 Oscar will well and truly play the World Cup. Following medical tests undergone by Selecao players Tuesday, the rumor of a withdrawal of the Chelsea player was circulated sowing great concern in the public. But the CBF has denied the reports and has published a video of the Blues player on its website.
"I wanted to tell you that I'm still here. My daughter is not yet born. I have not forfeited. I will train today and, God willing, my daughter will be born in the coming days," said Oscar in the video.
Here's a release that will soothe the hearts of millions of Brazilians.