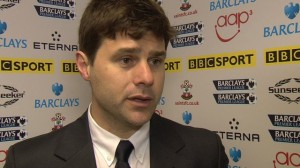 Tottenham announced the recruitment of Mauricio Pochettino as manager of the club for the next 5 years. The Argentine technician has then left office in Southampton.
Pochettino, former coach of Espanyol was the head of the Saints for 15 months. This season, he raised the club to its highest ranking in the English Premier League (8th).
He replaces Tim Sherwood who secured to Spurs a 6th place synonymous with The Europa League qualification after taking office in December last year following the departure of Villas-Boas.
One of the architects of this performance is none other than the Togolese Emmanuel Adebayor with whom he has a very friendly relationship. His departure has also disappointed the former Gunner.
The Club is delighted to announce the appointment of Mauricio Pochettino as our new Head Coach on a five-year contract.

— Tottenham Hotspur (@SpursOfficial) May 27, 2014