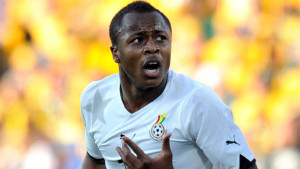 Black Stars of Ghana are packing for Brazil with a lot of desire and enthusiasm. Ghanaians have to do better than their feat in World 2010. It is with a spirit of revenge after a cruel elimination in the quarterfinals of the 2010 World Cup that Andre Ayew and teammates land in the land of Samba.
James Kwesi Appiah and his men are currently in the Netherlands to prepare for the competition. André Ayew hopes his selection will be ready to start the World Cup. "I hope we will be ready physically. Then we will first think of passing through the first round. It would be a feat. We go with determination and desire. We have a good group but we lack Isaac Vorsah and John Mensah who are injured. They were our hinge four years ago. Young comrades like Mensah and Boye are coming. They are high-class players so they deserve their chances," said the OM midfielder.
Ghana began preparations since May 20 in Accra. May 24, Ghanaians flew to the Netherlands where they will face the Netherlands in a friendly (May 31 in Rotterdam). Then they go to Miami (United States) on June 1 for a final camping. A camping that will be punctuated by a test, facing South Korea on June 9. They will then enter the competition with matches against the United States (June 16 at Natal), against Germany (June 21 at Fortaleza) and against Portugal (June 26 at Brasilia).