What you see is not a toy, no. Perhaps the object looks like that, but far from being a toy, it's a plane, and a real one. This is the Boeing 737-800 on which players of the Brazilian national during the World Cup. It makes the buzz on the net for a few days and created a lot of reactions that are due to its unusual style.
Made by Otavio and Gustavo Pandolfo, two famous Brazilian graffiti artists who have the distinction of being twins, the graffiti aims at paying tribute to the Brazilian people. This, in a characteristic style that includes characters with yellow, coffee and black skins.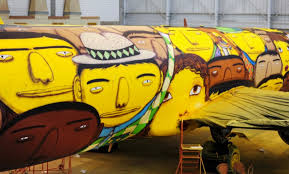 "We wanted to break the routine of trips with normal aircrafts," said Gustavo Pandolfo to El Pais. "We want passengers to fly in a work of art," he added.
Between 10 and 15 working days with 1,200 boxes of special spray paint were needed to decorate the aircraft in a hangar at Confins airport in Belo Horizonte. The interior of the unit, however, remains original.