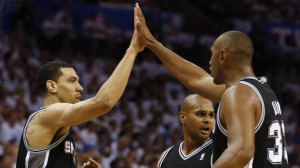 We will be entitled to the same poster as last year at NBA Finals. San Antonio went to get their qualification in the Hall of Thunder. Led by Boris Diaw and Tim Duncan, the Spurs have imposed themselves 112-107 after overtime.
After an 11-0 at the start of the first quarter time, OKC sees Texans narrowing the gap, 23-20. The two franchises, aggressive, turned to the attack. Diaw leaves the bench and allows his men to take the lead after a 10-4. Reggie Jackson (21 points) , Durant and Westbrook do the job and joined the Thunder locker room with a 7 points mattress:49 -42.
In the second period, San Antonio should continue this Game 6 without their point guard Tony Parker hit in the ankle. Cory Joseph took control of post 1. Texans tied back quickly after a 9-2. Russell Westbrook and Jackson returned to the bench after four fouls each. Boris Diaw, Danni Green and co showered a 10-0 to the men of Scott Brooks; 69-79 at the start of the fourth quarter time. The Franco -Senegalese continues his dynamic (26 points, Spurs top scorer) and Spurs are still in the lead. Money time has been hotly contested. After a rewarding shot by Manu Ginobili (15 pts, 6rbds, 5 assists) San Antonio holds the victory. But Westbrook (34 pts, 7 rebounds, 8 pds, 6 ints) sends everyone in overtime, 101 everywhere.
In extra time, Tim Duncan (19 points, 15 rebounds) registered 7 of the 11 points of Spurs. Opposite the Thunder faces a strong defense and bows 112-107. A defeat which deprives the team of Kevin Durant (31 pts, 14 rebounds, 3 blocks) of Finals. Serge Ibaka finished the game with 16 points, 4 rebounds, 3 assists and 4 blocks.
San Antonio therefore win series 4-2. The Champion of the Western Conference made the difference with its bench that brought 51 points against only five at the side of Thunder! Except Derek Fisher (5 points) all points of OKC were scored by Durant, Westbrook, Ibaka and Jackson. While 10 players of Texans found the target.
Spurs will right on Thursday Miami -heartthrob of Indiana Pacers by 4-2- for the remake of the Finals last year. The field advantage this time is for both Diaw and co.
[youtube]https://www.youtube.com/watch?v=pFysfc-K3Dg[/youtube]