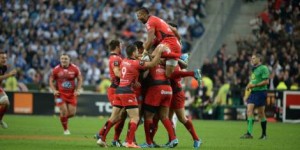 Jonny Wilkinson has been one more time huge for his final career game. At 100% successful, the captain of Toulon Rugby Club offered a France championship trophy to his troops. Opposed to Castres Olympiques, who defended their title, Toulon have imposed themselves 18-10 .
With the exception of the long distance penalty left to Delon Armitage, Jonny Wilkinson was the CO poison. Left foot, right foot as the penalty to drop, the opener was masterful in his last game (15 points).
"It is impossible to say what happens in my head. We gave everything together for five years and even more to live this moment. We had bad times and good, but we managed to stay together and it was the most important. We are a team and we will remain a team. It's amazing, I never expected to end up like this," said Wilko leaving the scene with the double Heineken Cup Brennus Shield a week interval.
Toulon revives the championship of France after 1992.