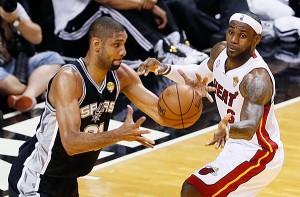 The 2013-2014 NBA season reaches its last turn on the night of Thursday to Friday with the Finals. Just like last year, the championship will pit the Miami Heat to San Antonio Spurs .
Tony Parker, Tim Duncan and Manu Ginobili were denied a fourth ring in Game 7 after Ray Allen devastated all their determination in Game 6. To give the right to a rematch, the Texans went for the qualification at Oklahoma City during the sixth game of the Western Conference final series. It is also through an identical 4-2 domination that Miami, double defending champions, ended the ambitions of Indiana. This is the first time in 16 years that two franchises meet two consecutive years for the NBA Finals.
Leaders of the regular season, the Spurs go for these Finals series, with home field advantage.
The full program of NBA Finals 2014.
Game 1 San Antonio vs. Miami, Friday, June 6 at 3.a.m.
Game 2 San Antonio vs Miami, Sunday, June 9 at 2.a.m
Game 3 Miami vs. San Antonio, Wednesday, June 11 at 3a.m.
Game 4 Miami vs. San Antonio, Friday, June 13 at 3a.m.
Game 5 San Antonio vs Miami, Sunday, June 15 (if necessary)
Game 6 Miami vs San Antonio, Tuesday, June 17 (if necessary)
Game 7 San Antonio vs Miami, Friday, June 20 (if necessary)