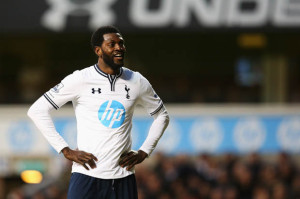 Emmanuel Adebayor has no desire to leave Tottenham even if this decision will cost him a salary decrease. This is the information revealed Monday by The Standard. The British newspaper reports that despite the growing interest of Monaco, the Togolese striker wants to stay at White Hart Lane despite a salary that would be diminished.
And because Adebayor for three years at Spurs, collects 170,000 pounds per week. An amount which contributed Manchester City, the club to which he belonged before making a final commitment to Tottenham two years ago. So, if the former Gunner remains in London (he has two more years of contract), he would finally perceive only 90,000 pounds per week (time clause with Citizens expired).
A situation that does not bother at all Emmanuel Adebayor. Each time, he declares feeling well like his family in the English capital. Long mocked for his financial and athletic choice, the captain of the Togolese team recently confided in an interview with Fabrice Muamba that he is playing for his passion for football and not for money.
Otherwise, he would be in countries that pay well. However, the final decision remains in the hands of the new manager Mauricio Pochettino. But Chairman Daniel Levy would not be against a departure of the Togolese with a bid of £ 5 million as the former Madrid star gets older (30 years).