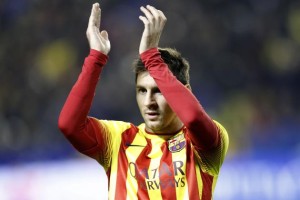 Lionel Messi, Cristiano Ronaldo and Luis Suarez are the three world's most expensive footballers. This is what reveals the CIES Football Observatory.
CIES released today its annual report on the world of football. It particularly classes players according to their market value. Lionel Messi finished first, with an estimated value of 216 million Euros. He is followed by Cristiano Ronaldo, estimated at € 114 million. The Argentine has nevertheless seen his value fall by 19 million compared with last year, while the Portuguese increased by 4 million.
The podium was completed by Luis Suarez, whose value has exploded this season and reached 107 million Euros. Eden Hazard, fourth (83 million), ahead of Neymar (68 million) and the first French, Paul Pogba, estimated at 65 million Euros. The first PSG player, Edinson Cavani, is ninth (52 million).
The value of each player is calculated according to his performance, age, duration of his contract, his position and his international experience.