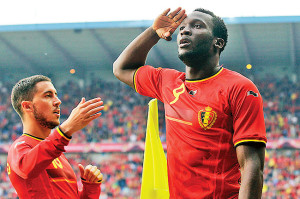 Remember. Over a week ago, Belgium played Luxembourg for their first friendly match in preparation for the World Cup. The Red Devils easily hammered their opponent 4-0 with a hat-trick by Romelu Lukaku. Wednesday we learned that the meeting was downgraded as international match in a meeting by FIFA.
And for good reason, the Belgian coach Marc Wilmots made 7 replacements instead of 6. Suddenly, the game does not count in the FIFA rankings and Lukaku's goals will not appear in official statistics, as well as the first selections of Bossut, Januzaj and Origi.
During the next friendly match of Belgium (against Tunisia on June 7), Wilmots will have to pay more attention.