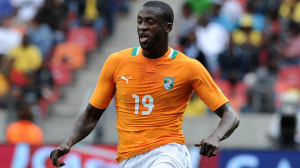 For his last match before leaving for Brazil, Côte d'Ivoire faces in the night from Wednesday to Thursday Salvador in Dallas, (1 hour GMT). But it will be without Yaya Toure who has been put to rest by manager Sabri Lamouchi. This is what reveals the federation on its website.
"Yaya Toure has not presented alarming sign on his health. But the technical staff of the Ivorian team intends to maintain its player who just recovered from injury and had a tiring season ", it read.
The midfielder of Manchester City has joined his teammates at the end of last week after care in Doha at the end of the Premier League season. He will therefore not play any friendly match before the start of the competition after missing the 1-2 defeat against Bosnia.