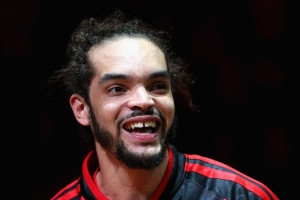 Another distinction for the Franco-Cameroonian Joakim Noah. The best defender of the year is in the first team of the 2013-2014 NBA season. The league has just unveiled the five major of the year.
Ranking first in the NBA All-Defensive Team, the backbone of the Chicago Bulls is a member of the All-NBA First Team, which obviously includes the MVP of the regular season Kevin Durant. The five major also consists of LeBron James, Chris Paul and James Harden. Jooks is the first French to be a member of the All-NBA First Team. His compatriot Parker is in the second team.
The leader of the San Antonio Spurs, Tony Parker is in the All-NBA Second Team with Stephen Curry, Blake Griffin, Kevin Love and Dwight Howard.