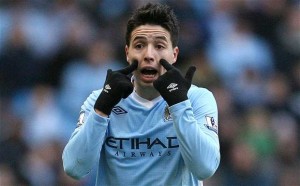 Samir Nasri should not be worried. Manchester City, club with which he is out of contract, intends to extend with the French midfielder.
Even if he's been sent away from the World Cup with the Blues, Samir Nasri may find smiles with a new contract at Manchester City. Currently tied with England champions until 2015, the tricolor midfielder is highly appreciated by his leaders who are really not ready to let the ex-Marseille star walk out of their premises.
To believe L'Equipe, the 26 year old player must re-enlist for four years with the Citizens of Manuel Pellegrini, until June 2019. At the Etihad Stadium for three years, Samir Nasri is part of the spearheads of the English side. In 2013-2014, he was thus one of the chief architects of the new coronation of the teammates Sergio Agüero.
Author of seven goals in 34 Premier League matches, he even scored during the 38th and final day against West Ham United ( 2-0), the victorious strike for Manchester City.