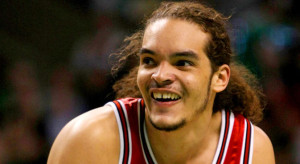 Although Bulls failed to reach the semifinals of conference, this NBA season remains the best for Joakim Noah since he is in the North American basketball championship. Most altruistic Pivot in the league, Jooks has been named in the five major of the season.
This distinction allows the best defender of the year to reach a bonus included in his contract. First vote of the NBA All-Devensive Team, Noah will receive a bonus of $ 500 000 for his appointment in the All-NBA First Team.
Already prominently in the book of statistics of the franchise in Illinois, Noah became the fourth player of the Chicago Bulls to be part of the All-NBA First Team, after Michael Jordan (10 times), Scottie Pippen (3 times) and Derrick Rose.