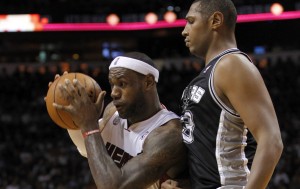 San Antonio Spurs and Miami Heat are vying for the title of champion of the NBA as of Thursday. The Miami Heat will defend their title against the same finalists as last season; San Antonio Spurs. One man in particular symbolizes danger in the Florida "athletic" team: LeBron James."He's talented, athletic, he has the power and speed," comments Boris Diaw.
The strong Spurs winger even thinks it will be almost impossible to beat the 2013 NBA Finals MVP. "To stop him, I do not know if there are specific keys but we will watch movies to dissect his way of playing. And as Kevin Durant, we will make every effort to make him throw complicated shots, even though we know he will score points. We cannot prevent him from scoring, do not dream, we cannot happen to limit him to less than 10 points. (…)."
To force the King to throw complicated shots, San Antonio will be based on the performance of the Indiana Pacers who have once managed to limit him to less than 10 points.