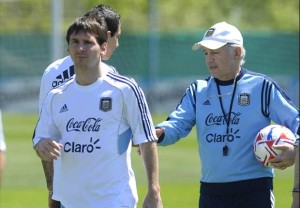 As in almost all selections, we experience surprises and frustrations after the publication of the list for the World Cup. Argentina has not been spared by this situation. Coach Alejandro Sabella decided to drop Ever Banega while the latter was involved in all the preparations.
And since the announcement of the list of 23 players who will head to Brazil, the atmosphere has deteriorated. Several players including Lionel Messi and Angel Di Maria would be very affected by Alejandro Sabella decision not to include Ever Banega, midfielder Newell's (and former Valencia) in the Albiceleste selection. According to the Argentine newspaper Clarin, Di Maria would burst into tears while consoling his friend…
"The spring is broken," says Clarin. So far, the bond between the coach and the group was very strong. This is, obviously, no more the case!