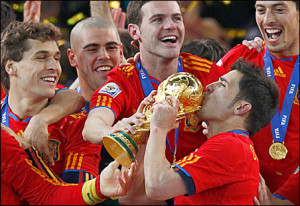 We know everything about bonuses that will receive the Spanish players if they succeed in defending their World Cup title. The Spanish press announced in details, bonuses promised to Roja players.
To believe the daily Marca, the Spanish Football Federation reached an agreement with Vicente Del Bosque's men and the least we can say is that their motivation will be compounded by the premiums offered.
If Spain happens, on July 13, to win the World Cup in Brazil, each player will receive 720,000 Euros…. It will be 360,000 Euros for the presence in the final and 180,000 Euros for the qualification in the last four.
Widely colossal proposals compared with those of France, where the Blues will each get € 330 000 in case of World Cup coronation.
In the first round, teammates of Fernando Torres will challenge in Group B, the Netherlands (June 13), Chile (June 18) and Australia (23 June).