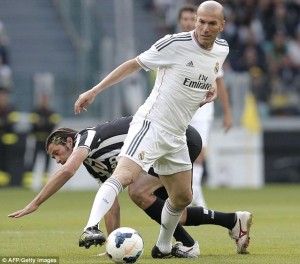 Zinédine Zidane has lost nothing of his technique and his vista in front of goals. Moreover, this season we have seen him repeatedly making fantastic dribbles to Real Madrid players at training. And since the end of the championships, it is he who delights. The former Blues number 10 took charges this Sunday in a meeting pitting Legends of Real Madrid to those of Inter Milan 2-2.
Last week, it was at the Juventus stadium for UNESCO Cup. This time, it is in the lair of Santiago Bernabeu that the festival took place.
It is Zidane who opened the scoring for Real Madrid after beating a defender. But behind, the new retiree, Javier Zanetti sends a missile in the Spanish cages to restore parity before the break.
After the break, the Merengues recovered advantage thanks to Ivan Perez before Choutos equalized.
[youtube]https://www.youtube.com/watch?v=pOeC-sBjRcU[/youtube]