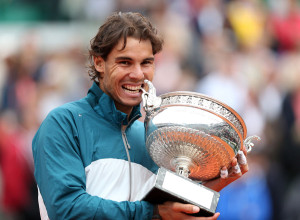 A little more in the history of tennis. Rafael Nadal has won his 9th title Sunday in Paris at the Porte d'Auteuil tournament. The Spaniard struggled against back pain but also against a tough opponent to win in 4 sets 3-6 7-5 6-2 6-4.
Nadal actually first trembled in the final after a first set easily won by Djokovic after breaking his opponent. The Serbian who was running after a first success at Roland Garros hangs in the second set but must release in the tiebreak. Then the other two sets are almost formalities for the Manacor Taurus who manages his advantage to the end.
14th Grand Slam title for Nadal equalling American legend Pete Sampras. Saturday in the women, Russian Maria Sharapova won her 2nd title at the expense of Simona Halep (6-4, 6-7 [5], 6-4).