For the third consecutive time, Côte d'Ivoire will represent Africa at the FIFA World Cup after 2006 and 2010. With other qualified countries in this great global competition (Algeria, Cameroon, Ghana, Nigeria), they will have important mission to shine and to honor Africa as did the Black Stars in 2010. Meanwhile, let's discover the Football Team of the Elephants.
Name: Ivorian Football Federation
Confederation: CAF
Foundation: April 7, 1960
Nickname: Elephants
FIFA ranking: 23rd
2014 World Cup slogan: Elephants to conquer Brazil
Chairman: Augustin Sidy Diallo
Breeder: Sabri Lamouchi
Previous participation in the World Cup: 2 (2006 and 2010)
Top rank: First round
Calendar
Côte d'Ivoire vs. Japan, 1 pm GMT
Côte d'Ivoire vs. Columbia, 16 pm GMT
Côte d'Ivoire vs. Greece, 20 pm GMT
The team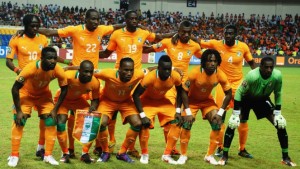 After its unique African title obtained at the African Cup of Nations in 1992, Côte d'Ivoire has long suffered before reconstituting a new world class team competitive internationally. Boosted by the emergence of young players from the Mimosifcom Academy (Kolo Toure, Yaya Toure, Didier Zokora etc.) and the iconic Didier Drogba, this generation, which has already participated in two World Cup has never succeeded in passing over the first round. For their first participation in 2006, they fell into the group called "death" and was unable to play the second round after two defeats (2-1) against Argentina and the Netherlands. Same in 2010 in South Africa where the Elephants were unable to qualify for the second round from a group consisting of Brazil and Portugal.
Disappointing in 2006 and 2010 despite the expectations of their fans, the Elephants have at heart to forget their past failures. Especially since this will be the last World Cup for the Didier Drogba generation. But to get there, Sabri Lamouchi and his men, who have more or less difficultly qualified for Brazil against Senegal must overcome obstacles to be set by Japan, Colombia and Greece in group stage in particular. Opponents who are far from being easy to play.
Star: Yaya Touré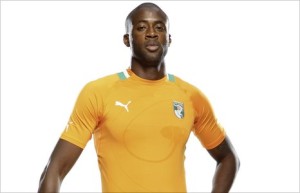 In 2006 and 2010, it was Didier Drogba. This time, a new star is born. It is none but Yaya Touré. Huge midfielder who comes off the lot for his physical abilities, the Manchester City player was unanimous in Europe as well as on the continent during the last three years especially. Which allowed him to be elected African Footballer the Year thrice in a row (2011, 2012 and 2013). Author of 20 goals this season with his club despite his defensive midfielder position, Yaya nicknamed "Tiger" showed has hinted at great feats and has then increased considerably. He will, for sure, be the locomotive of Elephants during this competition.
Player to watch: Serge Aurier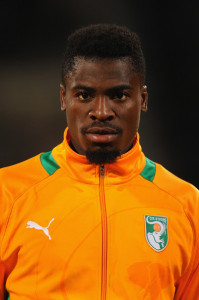 He is only 21 years old. Yet Serge Aurier impressed throughout France Ligue 1 this season by the immensity of his talent. Bright and quick on the ball, the player of Toulouse is a great defender in the making. Author of 6 goals and 7 assists over 38 games, Aurier has been the most prolific fullback in Europe in 2013-2014. In addition, he was elected the best right side in the XI Pro of Ligue 1 at the UNFP Trophies and also finished second in the ranking of best African players in Ligue 1 behind Vincent Enyeama, the goalkeeper of Lille. It not for nothing that he is coveted by two English clubs namely Arsenal and Liverpool.
Selected for the first time with the Elephants in June 2013, Aurier will play his first World Cup in Brazil and intends to prove he deserves his place among the Elephants. With him, Côte d'Ivoire has the means to reach the knockout stages.
The squad
Goalkeepers: Boubacar Barry (Lokeren / BEL) Sayouba Mande (Stabaek / NOR), Sylvain Gbohouo (Séwé San Pedro / CIV)
Defenders: Kolo Toure (Liverpool / ENG), Arthur Boka (Stuttgart / GER), Jean-Daniel Akpa Akpro (Toulouse / FRA), Serge Aurier (Toulouse / FRA), Ousmane Viera Diarrassouba (Caykur Rizespor / TUR), Didier Zokora ( Trabzonspor / TUR), Constant Djakpa (Frankfurt / GER), Souleymane Bamba (Trabzonspor / TUR)
Midfielders: Ishmael Diomandé (AS Saint-Etienne/FRA), Max Gradel (AS Saint-Etienne/FRA), Yaya Touré (Manchester City / ENG), Cheick Tiote Ishmael (Newcastle / ENG), Geoffroy Serey Die (FC Basel / SUI ), Didier Ya Konan (Hannover 96/GER)
Forwards: Didier Drogba (Galatasaray / TUR), Gervinho (Roma / ITA), Salomon Kalou (Lille / FRA), Wilfried Bony (Swansea / ENG), Giovanni Sio (FC Basel / SUI), Mathis Bolly (Düsseldorf / GER) .
Our standard team
Barry, Kolo Toure, Bamba, Aurier, Boka, Yaya Toure, Tiote, Zokora, Kalou, Gervinho, Drogba.