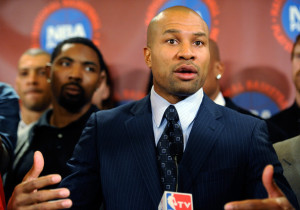 Derek Fisher will not come back on the floor of the NBA as a player. After 20 years in the league leading the Lakers, Warriors, Jazz and Thunder, the leader of the five-rings -all with LA Lakers- will begin a new career next season; that of coach.
Nearly 40 years old (9 August), the native of Little Rock will be on the bench for the New York Knicks. In the short list of Phil Jackson to succeed Mike Woodson, fired. Derek Fisher has signed a five-year contract with the franchise of Big Apple. The cost of this signature is estimated at $ 25 million over the period.
Former Los Angeles Lakers coach Phil Jackson should teach the business to the new rookie of benches in the NBA. But Fisher should be assisted by experienced men who have worked alongside the Zen Master. By the way, are announced Kurt Rambis, Bill Cartwright, Rick Fox and Luke Walton.
Before attempting to lead the Knicks to the playoffs, Derek Fisher, the player who played the most postseason games should help the boss of the franchise to deter Carmelo Anthony to test the market and thus remain in the roster.