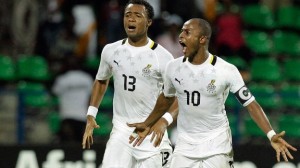 A few days before the start of the World Cup he will compete with Ghana, André Ayew, midfielder of Olympique de Marseille, expressed his impatience to start the competition.
Andre Ayew expressed ambitions with Ghana: "Yes, I grew up in Ghana before arriving in Marseille. I know what the people expect and the love they give me, I cannot drop the selection. There were things I did not agree with, but we found a happy medium and we must only think of raising Ghana at the highest level possible," he explains in the columns of la Provence Monday.
The Ghana international of Olympique de Marseille has also spoken on the France team. For Ayew, the Blues have the means to do well: "The group is formed. Honestly, if everyone is physically, they can fall heads. From the qualifiers, they gained confidence, sparked a craze. That's football, it goes so fast. Nothing is preordained, but the Blues are starting a competition at their fingertips. If they do the right thing, they will pass quietly. Up to them to raise their level over the knockouts," he added.