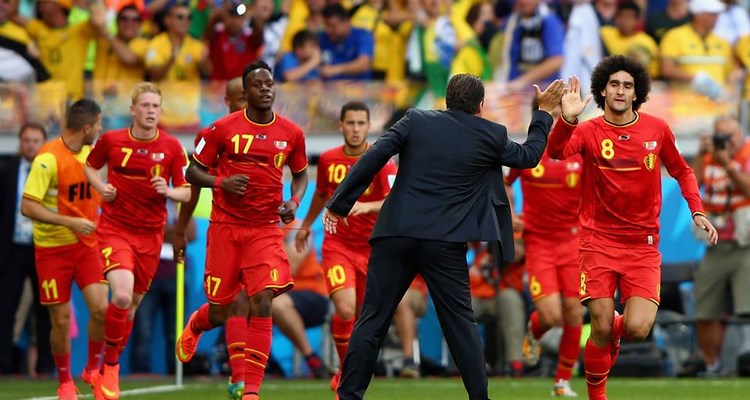 Algeria has successfully negotiated the first halftime lead against Belgium (1-0) after a goal of Feghouli on penalty. While Africa believed in another win by the last representative, the second period was fatal!
Well organized from the break, the Devils crisscross the pitch and took full control of the game. Domination is clear but Algeria defends but makes many mistakes. Belgians keep pace under the leadership of Mertens, who makes a good entry. He overflows well on the left and serves Lukaku in line, but nothing. Marc Wilmots decides to replace Dembele and Lukaku.
Origi and Fellaini entered. Opportunities keep coming. The goal of the Greens managed to win a face to face with Origi in the 67th minute. Three minutes later, the defense of Vahid Halilhodzic has collapsed. Following a surgical shot of Bruyne, Fellaini put in a header (1-1).
Boosted by this equalizer, the Belgians become more threatening. Domination paid off as the Red Devils pierced the green defense with a goal of Mertens (79th).
Algerians tried to reply, but their attempts were unsuccessful.
[dailymotion]http://www.dailymotion.com/video/x1zpi1h_feghouli-goal-penalty-belgium-vs-algeria-0-1-world-cup-2014-hd_sport[/dailymotion]
[dailymotion]http://www.dailymotion.com/video/x1zpn7p_1-1-belgium-vs-algeria-felaini-goal-world-cup-2014_sport[/dailymotion]
[dailymotion]http://www.dailymotion.com/video/x1zpo2e_mertens-amazing-goal-belgium-vs-algeria-2-1-world-cup-brazil-17-06-14_sport[/dailymotion]