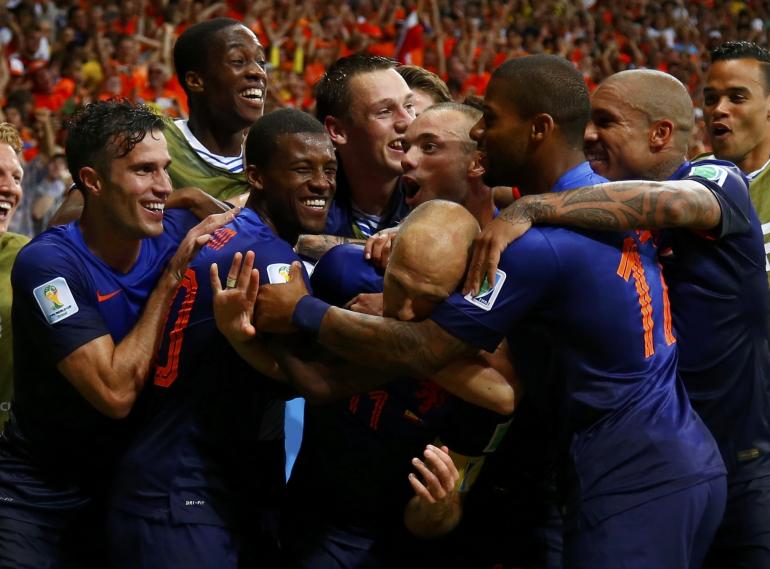 The Netherlands are almost in the second round. They finally took the upper hand of the match that just pitted them to Australia in the context of the second day of Group B of the 2014 World Cup. But it was not easy for the Dutch who, however, had crushed Spain 5-1 a few days ago.
While we waited, it is rather the Australians who took the lead early in the game. But they conceded the first goal of the match in the 20th minute by Arjen Robben. On a ball from the left, the Munich trigger crossed his shot victoriously. 1-0 for the Netherlands. Joy of very short duration, as the Australians equalized a minute later (21st). Tim Cahill on an amazing volley with the left foot takes over a long ball into the Dutch goal with the help of the cross! Nothing will be remarkable until the end of the first period.
After the break, Australia takes the initiative of the game. On a shot from Oar, Janmaat touches the ball with his hand in the box. Penalty! Jedinak transforms it. Australians lead 2-1 in the 54th minute. Four minutes later, Van Persie equalized in a very pleasant game before Depay gives the advantage to the Oranje. 3-2 domination for the Netherlands who have not been caught up by the opponent until the end of the meeting.
Van Gaal's men emerged victorious in pain and are not very far from a qualification for the second round of the competition. They could officially clinch their ticket in case of victory of Chile over Spain or draw.