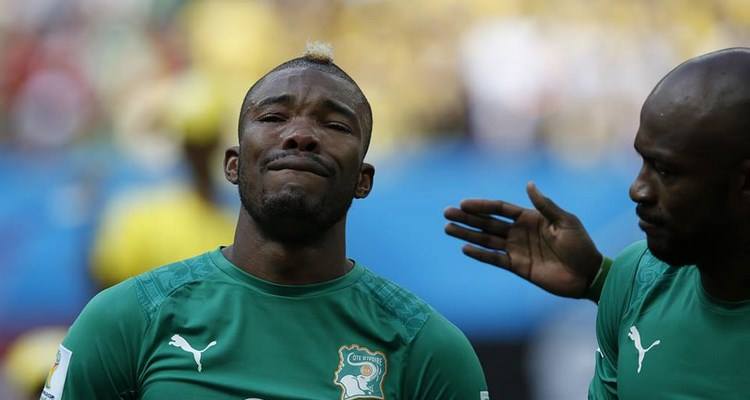 Huge disappointment on the African continent this afternoon. For their second match in Group C of the World Cup 2014, Ivory Coast bowed to Colombia 2-1.
In the first half, both teams had missed opportunity. If some ball control was observed at the Ivorian side, it is rather the Colombians who create danger in the opponent box twice. Firstly in the 6th minute by Gutierrez and in the eighth by Zuniga. Gutierrez returns in the 28th but missed completely a recovery in front of Barry Copa. True occasions for Côte d'Ivoire only occured towards the end of the first half with Gervinho and Tiote, but nothing will be scorted.
Côte d'Ivoire started bad the second half with the opening of the scoring by Colombia in the 64th minute. On a corner cleared off the left by Cuadrado, James Rodriguez has proved faster than Didier Drogba and put in a powerful header. Colombia took the lead 1-0! Six minutes later, Côte d'Ivoire receives a second goal on a big mistake by Serey Die. He loses the ball in midfield, and Gutierrez rushed through the goal before serving Quintero on his right. Alone in front of Copa, Quintero defies the keeper of the Elephants. 2-0 for Colombia!
Ivorians react quickly and reduce the score in the 73rd minute. From the left, Gervinho was author of a dribbling festival by eliminating Zuniga, Aguilar and Sanchez before hitting with the right foot. 2-1, a goal is pulled.
Despite repeated assaults of Côte d'Ivoire, nothing will be scored until the final whistle. Côte d'Ivoire tilts but is not yet eliminated. They will have the chance to catch up against Greece. With this victory, Colombia has six points, but is not yet mathematically qualified for the second round.
Check out goals!