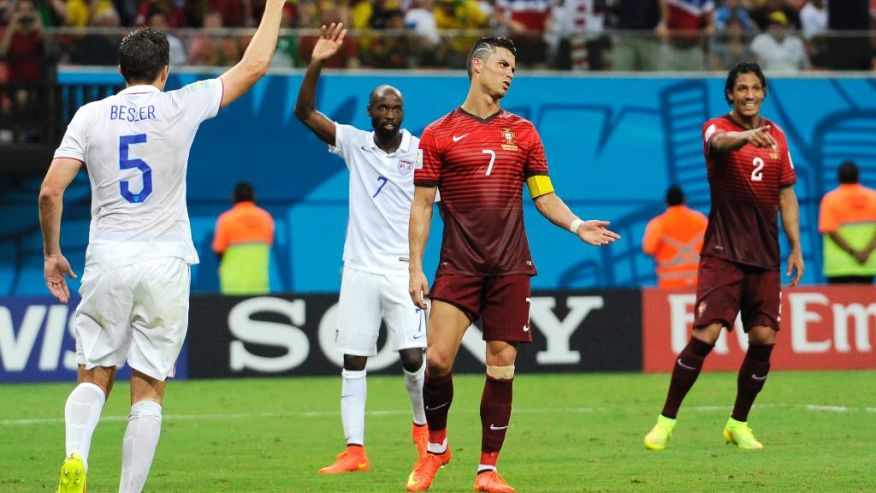 Portugal is on the brink of elimination from the 2014 World Cup. Cristiano Ronaldo and his teammates were unable to take advantage against the United States on Sunday in the second group game. The Selecao was held in check 1-1 and preparing to say goodbye to the competition.
Yet slapped by Germany of entry, Portugal started the game well. Nani opened the scoring after 5 minutes of play, but behind it is the U.S. that put the foot on the ball until the break. After the break, Jurgen Klinsmann's men realize their opportunities. Jones and Dempsey put their team ahead.
Back to the wall, Portugal draws on its reserves and in stoppage time, a marvel assist by Ronaldo allows Varela to equalize off the bench.
With 1 point but -4 goals difference, it will take a miracle for Portugal to qualify in a decisive match against Ghana. The other match opposes Germany to United States. A draw can qualify both teams.
[dailymotion]http://www.dailymotion.com/video/x201bo8_usa-vs-portugal-0-1-nani-goal-world-cup-2014_sport[/dailymotion]

[dailymotion]http://www.dailymotion.com/video/x201ejt_usa-vs-portugal-2-2-varela-goal-world-cup-2014_sport[/dailymotion]