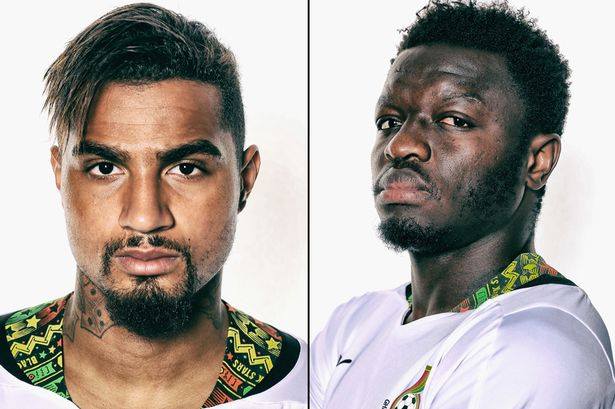 Despite receiving premiums late Wednesday night, the atmosphere is not very serene in the Ghanaian selection. Two players come just to be excluded from the group for the decisive match against Portugal on Thursday for a place in the knockout stages. It is Kevin-Prince Boateng and Sulley Muntari.
Both players were sidelined from the selection due to clashes but not between the two stars. We told you a few days ago. Kevin-Prince Boateng had not digested his status as a substitute in the first match against the United States and told the coach Kwesi Appiah. Earlier this week, during a training session, the player from Schalke 04 has insulted and almost came to blows with his coach because Appiah would have made him a rebuke in front of the whole group.
Muntari in the matter of bonuses!
Suspended for accumulation of yellow cards, Sulley Muntari was not basically set to take part in this last group meeting. But the midfielder of AC Milan, in the heart of the struggle for the claiming of bonuses before playing Portugal was guilty of a slap on a GFA (Ghana Football Association) official.
It is Moses Parker, owner of Ghanaian club Medeama. The latter has emphasized the immaturity of the players in the strike for premium at a meeting indexing Muntari. The Ghana star known for his lack of composure rushed to the manager and spat his truths.
Here is a report that does not bode good mood in the Black Stars a few hours ahead of such an important game.