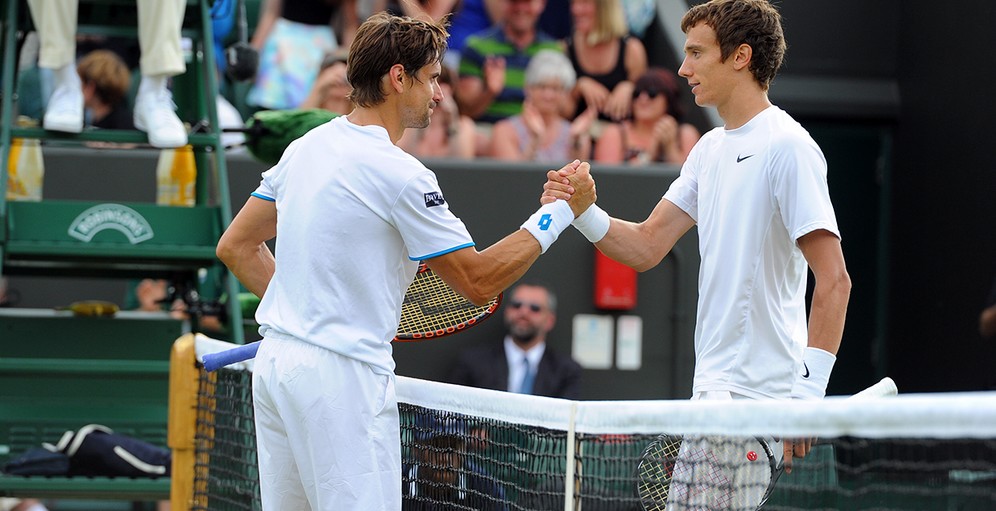 David Ferrer second member of the Top 10 in the ATP to exit at Wimbledon. After Enersts Latvian Gulbis (10th in the world) a bit earlier in the day, it is the Spaniard, seeded No. 7 who says goodbye to the grass at Wimbledon. Quarter-finalist last year, David Ferrer was eliminated by the 114th-ranked Russian, Andrey Kuznetsov, in five sets 6/7 [7-5], 6/0, 3/6, 6/3 , 6/2 on the short 2. In the third round Kuznetsov will face Leonardo Mayer. The Argentine beat Italian Andreas Seppi in four sets 7/4 [7-4], 4/6, 6/1, 6/4.
Recall that David Ferrer arrived at Wimbledon after renouncing Open Den Bosh because of stomach pain.
Note the victory of Bulgarian Grigor Dimitrov against the Australian Luke Saville, 6/3, 6/2, 6/4. He will face in the next round Alexandr Dolgopolov, who defeated German Benjamin Becker 6/7 [7-4], 7/6 [9-7], 6/3, 6/4.
After conceding the first set, Tomas Berdych went all out to get rid of Australian Bernard Tominc, 4/6, 7/55, 7/63, 6/1. He crosses the racket against Marin Cilic in the next round. The Croatian, ended the course of Andreas Haider-Maurer in four 3/6 innings, 6/1, 6/4, 6/4.