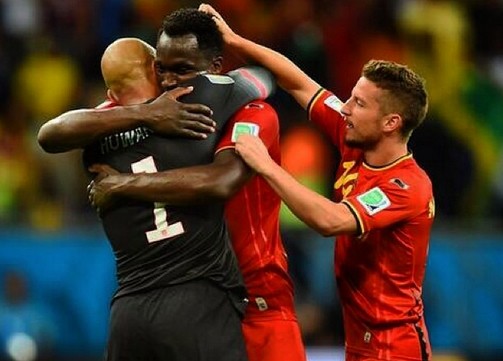 Tim Howard was unable to prevent the elimination of his country but has extended the deadline until the extension. By signing in the second round, an amazing match against Belgium (1-2) during which he made 15 brilliant stops, a record at World Cup. Tim Howard was applauded by the audience.
Romelu Lukaku, who has allowed his club for the break, went after the game to congratulate the excellent goalie. The Belgian striker of Congolese origin tranformed this recognition through a gesture (Image).
Catch Goal experts.@bainesyDiego10 and .@krisvoakes on .@timesnow 'Battle Brazil' this evening at 6.30 pm #worldcup pic.twitter.com/FPbB99lfcU

— Goal India (@Goal_India) July 2, 2014

Belgium will cross Argentina in the quarterfinals of the World Cup.