Even though he could not avoid the elimination of the United States against Belgium during the knockouts of the World Cup, Tim Howard became a hero, not only for Americans but also for the No. 1 of the White House, Barack Obama. The President of the United States congratulated the new record for saves in the World Cup.
"I just wanted to tell you that you have made us very proud," complimented the President of the United States from his office in the White House. "I do not know how you'll survive the crowds coming back but you will perhaps have to shave your beard!" he joked afterwards.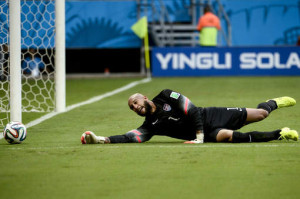 Obama praised the bravery of the Yanks throughout the 120 minutes, stating that he had always preferred the "soccer" ("although I was not very good at it"). "The way you've packed the heart of everyone, it's amazing!"
At least 21 million Americans attended the meeting Belgium-USA as announced CNN. Besides the giant screens and bars.
[youtube]https://www.youtube.com/watch?v=jNK93KpHaJg[/youtube]