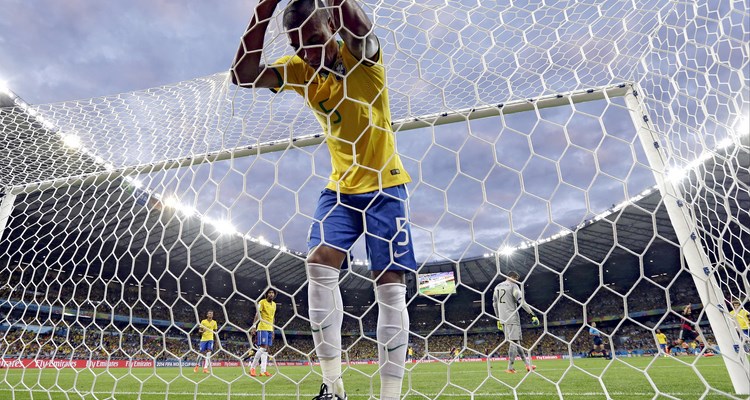 This defeat is historic. Brazil was humiliated 7 goals to 1 by Germany in Tuesday's semifinal encounter of the 2014 World Cup. A game that offers some poor figures for the Selecao and excellence for Nationalmannschaft. Here are 10 amazing stats out of this meeting with Opta.
The wider defeat of Brazil
Before the 7-1 suffered against Germany, the heaviest defeat in the history the Seleção went back to … 1920 and conceded a 6-0 in Copa America against Uruguay.
The worst defeat of a host country
Brazil, which suffered the biggest setback of a host country, is the second host in history to collect seven goals in a match of the World Cup after Switzerland, beaten 7-5 by Austria in 1954.
Brazil with Zaire and Haiti
Only three teams were led by five goals or more at halftime of a World Cup match: Zaire and Haiti in 1974 … Brazil this year.
Seven goals in semifinal, a first
No team had ever scored seven goals in the semi-finals of a World Cup before Germany Tuesday evening.
Germans, the fastest
Germany is the first team in the history of the World Cup to score five goals in thirty minutes. Furthermore, no team had ever scored four times in six minutes what the Germans did between the 23rd and 29th minutes.
Kroos, the quickest brace
Scorer twice within 69 seconds, the German midfielder Toni Kroos is the author of the fastest double in the history of the World Cup.
Seven goals, 80 years later
Germany is the second team to score at least seven goals to Brazil. The one before was in a 8-4 victory of Yugoslavia over the Selecao in March 1934.
The Germans, record finalists
Germany became the first country Sunday to play an eighth World Cup final. In the event of consecration, they would match the four titles of Italy, a unit adrift of Brazil, record holder.
Klose ahead of Ronaldo
Miroslav Klose became Tuesday the top scorer in the history of the World Cup with 16 goals (all registrants within the box) breaking the record set by Brazilian Ronaldo.
Müller with the greatest
Thomas Müller joined Tuesday the honorable group of players with at least nine goals and assists in the World Cup. His predecessors? Kopa, Fontaine, Eusebio, Pele, Lato, Maradona and his compatriot and namesake Gerd Müller.